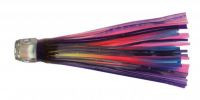 Small Cona 6 inch Dorado
Higher action head trail to be trolled further away from the boat at slightly slower speed approx. 7 knots.
Perfect for targeting Dolphin fish, Kingfish, Southern Bluefin, small Black Marlins.
It can be rigged with 230lb 1.2mm x 2 metre mono on 8/0 single 7691S sport style mustad hook.
Head size : 20mm dia x 21mm x 23mm
Total lure length :155mm